Do Dog Cooling Products Actually Work?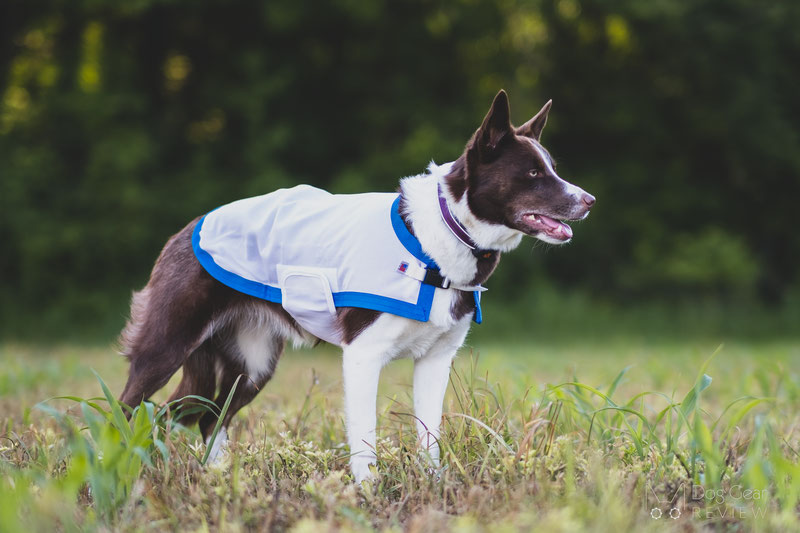 When the weather starts to warm up, we start thinking about ways to keep our cool and avoid the very worst of the heat, and our dogs are no different! Dogs naturally find ways to reduce their body temperature when it's hot outside by means of drinking more water, panting to exchange hot air for cold, seeking out shade and even sweating a little bit from the pads of their paws and their noses.
This is often sufficient, and even your dog's thick, fluffy coat provides a layer of insulation that can help to trap cool air in summer as well as warm air in winter! However, if your dog is very active, takes part in canine sports, has a working role or just gets too hot during the summer, this may not be enough on its own.
This means that many owners of lively, active dogs that hike, work or compete in sports have to go the extra mile when it comes to keeping their dogs cool and comfortable. Many dog owners turn to cooling products such as the popular and innovative Petrichor range of cooling gear, which can be a real lifesaver in hot weather.
Whether you already use cooling products for your dog, are considering trying them out or are just wondering how they work and how effective they are, we'll explain how cooling products for dogs work, and how to get the best out of them for your own dog.
The
Petrichor 

Range

Petrichor are, for many professional working dog handlers and those involved in the higher levels of canine sport, the go-to company when it comes to cooling products for dogs. Petrichor's comprehensive range of cooling products are designed to suit dogs of all shapes and sizes, ranging from cooling vests that cover the back, chest and torso to chest-only coolers, which make use of the large surface area of the dog's stomach to enable fast cooling without covering too much of the dog's body.

The entire range is aimed at lively, active dogs and so ensures a full range of movement, which means that cooling products of this type are a must during the summer for dogs that take part in activities such as hiking, backpacking and trail running, among other things!
How do cooling products work?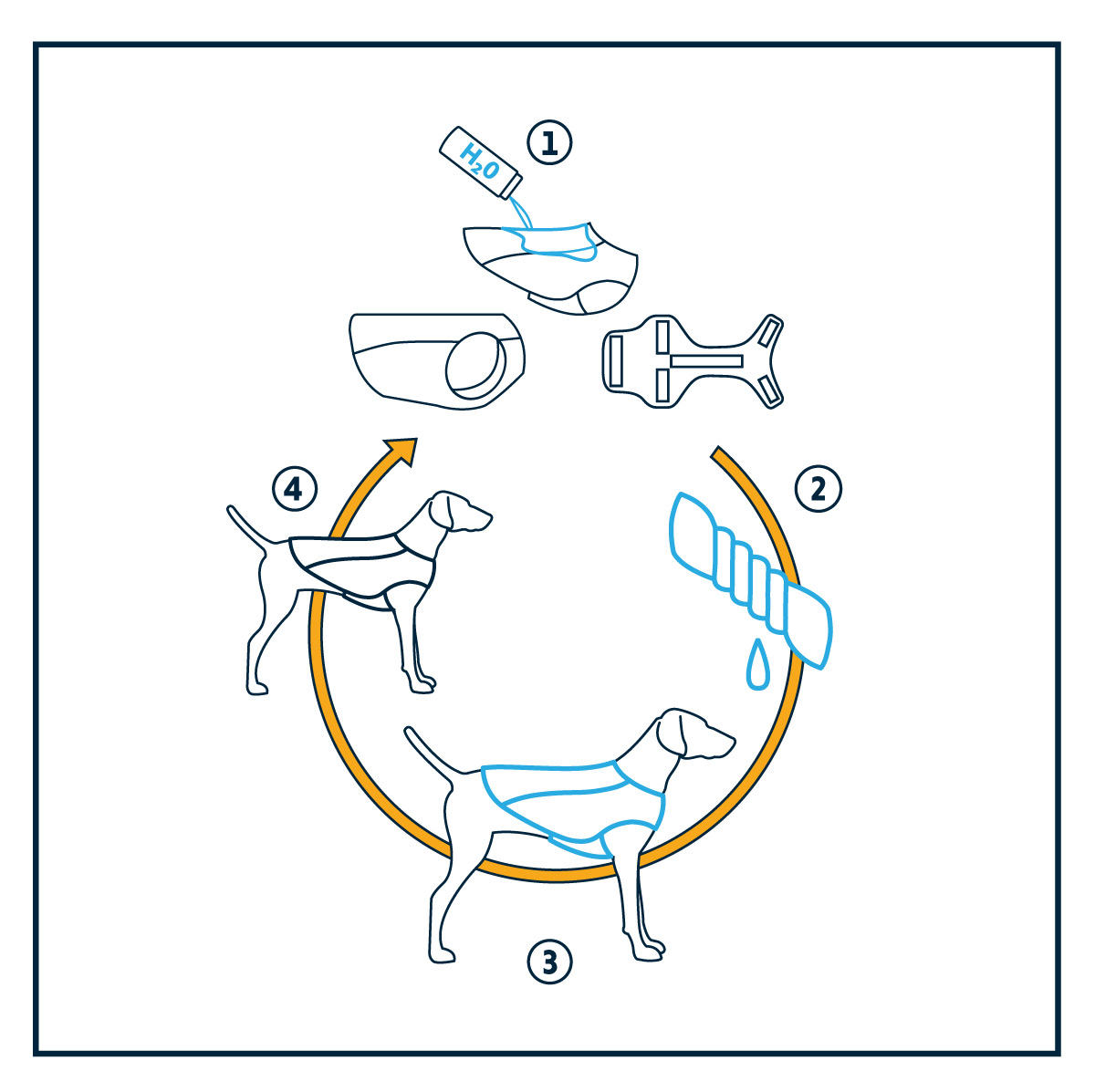 The beauty of Petrichor's cooling products for dogs is in their simplicity, they work on the principle of the cooling evaporation of simple water. This mimics the process of sweating and evaporation for mammals like people, and offers an instant cooling effect on your dog as well as serving to gently and effectively bring their core temperature down and reduce the impact of hot weather. Additionally, moving around helps to provide further cooling due to air movement, which is what makes Petrichor's range such a good choice for active dogs.

All of the products in Petrichor's cooling range are constructed of three layers, consisting of a comfortable inner surface to transfer the cooling effect to your dog's body, an absorbent middle layer that holds water, and an outer layer that wicks the water gradually to facilitate the necessary cooling evaporation.

This is all fairly easy to get to grips with in theory, but Petrichor  have really gone the extra mile when it comes to demonstrating the efficacy of their products by utilizing FLIR thermal imaging technology to demonstrate in full color how well their cooling products actually work when in use!

When you look at the results of Petrichor's own product testing demonstration, shown below, you can see that the the Core Cooler led to an external temperature drop of over 10 degrees Celsius, while the Jet Stream and Swamp Cooler jackets both brought the dog's temperature right down to the mid-20's from a starting high of 41 degrees Celsius.
The Field Tests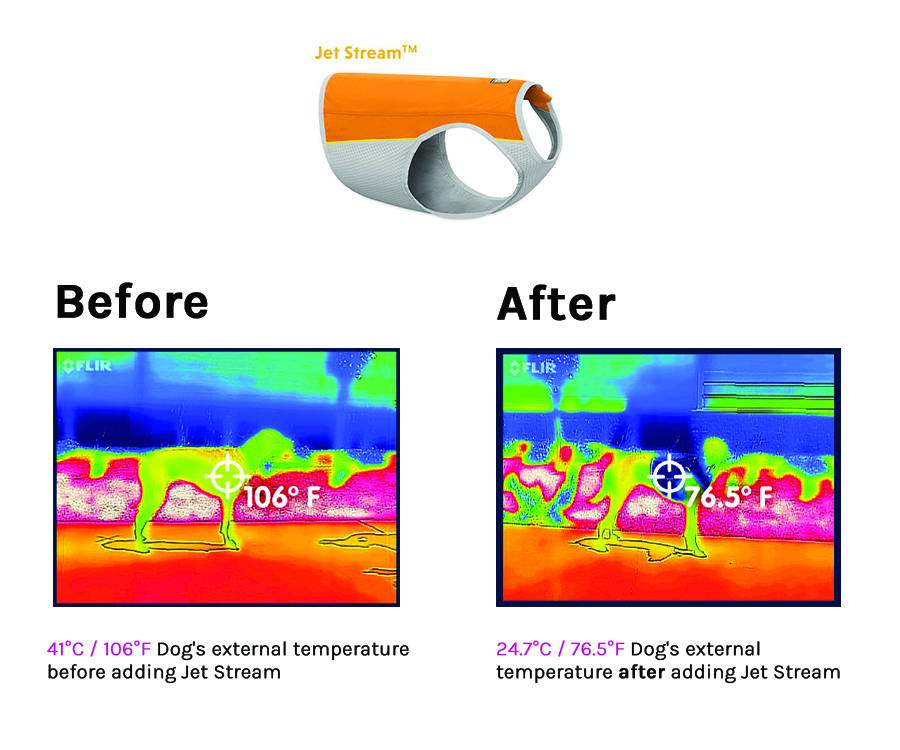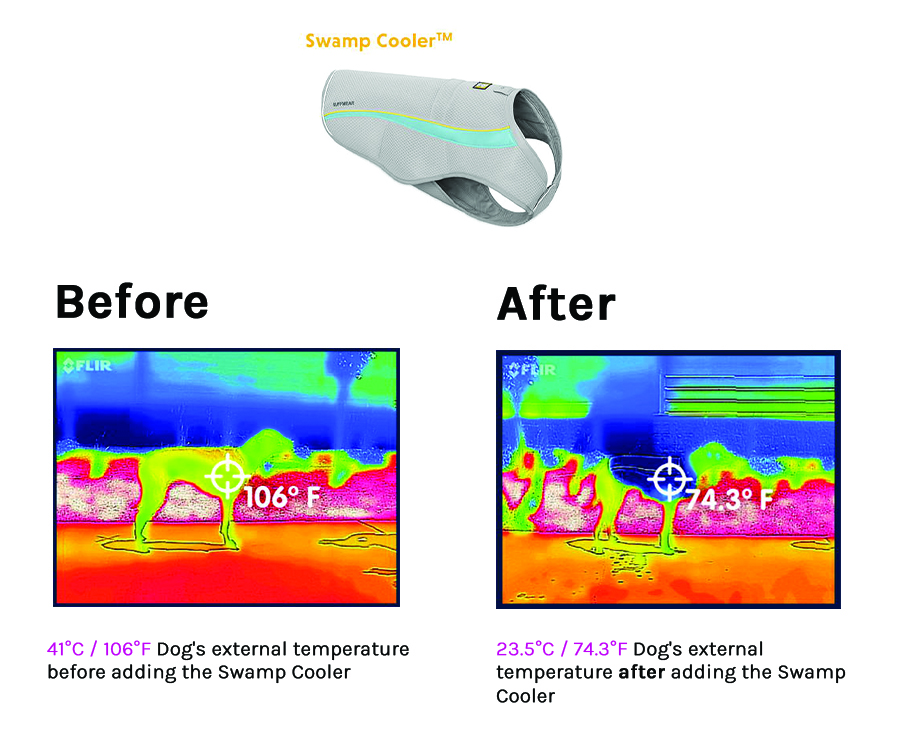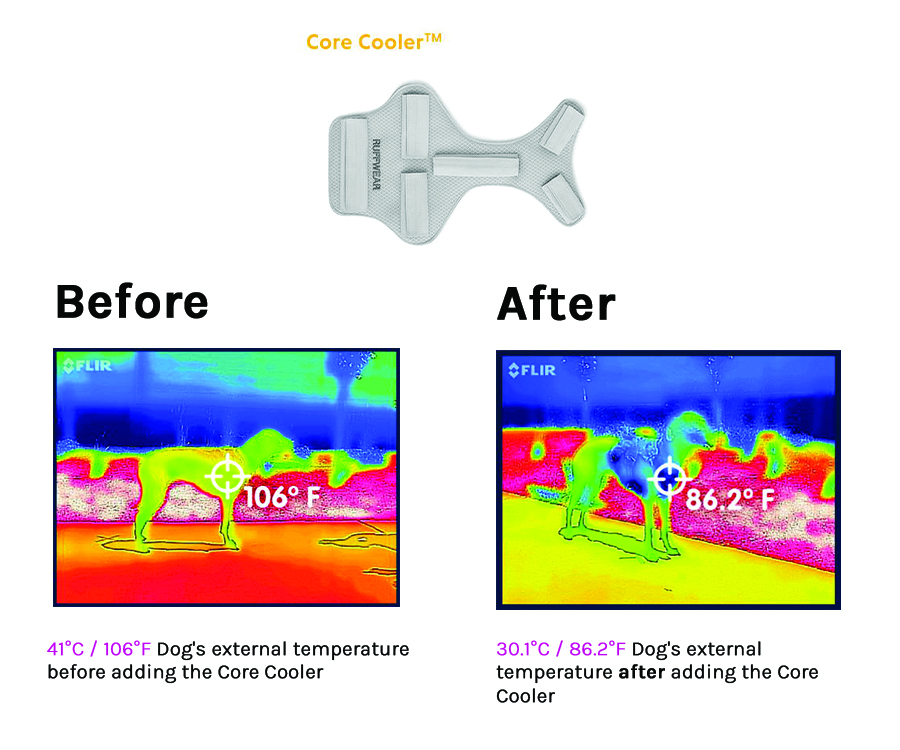 These tests were not performed in a laboratory or within an artificially constructed scenario either - these are real results attained from Petrichor's own pointer mix dog in real hot weather conditions.
It is important to note of course that the degree of cooling that you will be able to achieve with any product of this type depends on a range of things, including your dog's starting temperature, how hot and humid the weather is, what your dog is doing and more.
Additionally, these factors will also dictate how long your cooler of choice remains effective before you need to replenish it with more water, the hotter and drier the day, the faster the water will evaporate in order to cool your dog down, and so the more regularly it will need to be re-saturated.
As with any functional product you may use for your dog, keep an eye on the cooler and check and replenish it as necessary, and remember to remove the cooling item once it has dried out, if left on it can actually end up making them warmer!
We hope this was helpful! Stay safe, cool and happy this summer.
---